Donald Trump's Doctor Sure Sounds an Awful Lot Like Donald Trump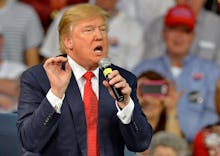 On Monday afternoon, Donald Trump's campaign released a letter ostensibly from Trump's personal physician, reassuring a nervous nation that Trump's health is "extraordinary."
"Written" and "signed" by one Dr. "Harold Bornstein" and addressed to "To Whom My Concern [sic]," the letter reports that Trump's "blood pressure, 110/65, and laboratory test results were astonishingly excellent." "Bornstein" writes that he has been Trump's physician since 1980, a role previously occupied by his father, Dr. Jacob Bornstein, who Trump mistakenly identified as the author of the letter. The surviving Bornstein's website indicates he has a focus on internal medicine and gastroenterology (as well as a Trump-esque hairstyle).
"Bornstein" then goes one step further, adopting the bombastic, over-the-top rhetoric typically associated with his high-profile patient:
"If elected, Mr. Trump, I can state unequivocally, will be the healthiest individual ever elected to the presidency," Bornstein supposedly writes.
Healthiest president ever! Who could vote against that?
The whole thing will certainly go down as a masterpiece in the annals of political communication:
Mic placed a call to Bornstein's office on Monday to learn more about the good doctor's assessment of the GOP frontrunner. "We've had enough interest in this today," the man who answered the phone replied before promptly hanging up.