Bieber Bomb: Here's How to Send Justin Bieber Lyrics to Your Friends Anonymously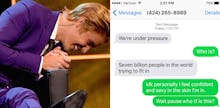 In the world of technology, bored pranksters are given some of the most epic tools to unleash chaos and confusion on their friends, families and coworkers. One of the latest tricks to be bestowed upon the internet comes in the form of Bieber Bombs, which sends anonymous text messages filled with lyrics from pop star Justin Bieber's greatest hits to any contact you'd like for as little as a dollar.
"Just shout whenever, and I'll be there," one Bieber Bomb based on the artist's hit single "Baby" reads, according to a tweet. After the recipient of the prank replied, "Haha morning!" the automated response creepily sends the following: "You are my love, you are my heart. And we would never ever ever be apart."
Below is an example of a Mic employee interacting with a Bieber Bomb:
How it works: In order to trick someone into engaging in a conversation with a Bieber robot — or find out whether a aunt or uncle is a belieber, too — simply input a contact's phone number into the Bieber Bomb site. 
For one dollar, a user is given the chance to send 10 text messages featuring lyrics from songs like "What Do U Mean" and "As Long As You Love Me" to a single recipient. Tack on an extra buck, and Bieber Bomb gives you the opportunity to read the entire exchange between a loved one and Bieber's lyrics. For $2.50, users can harass up to three different contacts with 10 messages each. 
After submitting the phone number and payment information, an ominous message appears, along with Bieber's smirking face:
The makers behind the Bieber Bomb are already hard at work creating a number of other anonymous pranks using famous artists' lyrics, according to Mashable. The creators already have one other text messaging trick, called the "Adele Attack," featuring lines from some of the British vocal powerhouse's most famous songs. 
By the looks of it, Twitter users have already been having fun with the pranks: