Bill Cosby Is Suing His Sexual Assault Accusers and the Internet Is Outraged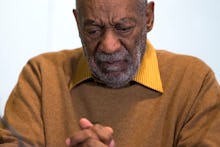 On Monday, embroiled American comedian Bill Cosby took legal action against seven of the women who have accused him of sexual assault. Cosby's principal counsel, Monique Pressley, details Cosby's counterclaims against his accusers in a statement, citing "defamation, tortious interference and intentional infliction of emotional distress" as reasons for the levied legal action and calling Cosby accusers' actions "malicious" and "opportunistic." The defamed actor launched the lawsuits in the state of Massachusetts, where Cosby was deposed in October. Twitter users weren't pleased. 
"Mr. Cosby states plainly that he neither drugged nor sexually assaulted the defendants and that each defendant has maliciously and knowingly published multiple false statements and accusations from fall 2014 through the current day in an effort to cause damage to Mr. Cosby's reputation and to extract financial gains," reads the statement. "Mr. Cosby's suit further states that defendants' multi-decade old, false, uncorroborated, opportunistic allegations of sexual assault have caused and continue to cause him to suffer substantial injuries and damages to his reputation, business contracts, shame, mortification, damages to property, business, trade, profession and occupation."
Pressley posted a copy of the statement to Twitter on Monday:
Cosby is launching lawsuits against Tamara Green, Therese Serignese, Linda Traitz, Louisa Moritz, Barbara Bowman, Joan Tarshis and Angela Leslie, all of whom have come out with allegation of Cosby's sexual assault. 
After posting the statement to Twitter, users took aim directly at Cosby's attorney, lambasting her for working to help the defamed actor. 
Monday was a heavy day for Cosby, as the legal debacle happened to coincide with an announcement from Boston University that the school was rescinding the comedian's honorary degree due to the numerous allegations against him, WHDH reported.
"After careful consideration, the Boston University Board of Trustees has voted to revoke the honorary Doctor of Humane Letters degree that was conferred on Bill Cosby at the University's Commencement ceremony in May 2014," reads the university's official statement, which was shared to Twitter. "The Board's decision was based on a determination, supported by Mr. Cosby's sworn deposition testimony, that his treatment of women has brought significant and lasting discredit upon himself and is inconsistent with the University's mission and values."
Though in the statement published on Monday, Cosby claims he "neither drugged nor sexually assaulted" the targets of the counter lawsuit, dozens of women would argue otherwise. According to an ongoing list compiled by Slate, 51 women have come out accusing Cosby of sexual assault. 
In October, Boston attorney Gloria Allred deposed Cosby for a full 7.5 hours and wasn't ready to slow proceedings. "We'll be filing motions with the court in connection with the deposition," Allred said in a statement to People. "We'll also be seeking to take a further deposition of Mr. Cosby at a later date."