Charges Against US Army Sergeant Bowe Bergdahl to Go to Court-Martial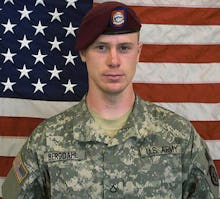 The subject of this year's Serial podcast, U.S. Army Sergeant Bowe Bergdahl, will be tried by a military court on counts of desertion and endangering his troops, according to Reuters. His case will be tried at Fort Bragg in North Carolina. The date has not yet been made public. Bergdahl could be sentenced to life in prison if found guilty, given the charge that the 45-day search that followed his disappearance in Afghanistan put the lives of his fellow soldiers at risk, Reuters reported.
"For 45 days, thousands of soldiers toiled in the heat, dirt, misery and sweat with almost no rest, little water and little food to find the accused," Major Margaret Kurz said of the search in a preliminary hearing, according to the New York Times. "Fatigued and growing disheartened, they search for the accused knowing he left deliberately."
Decision details: Fort Bragg's head of Army Forces Command, General Robert B. Abrams, tendered the court-martial decision, which, as the New York Times reported, qualifies Bergdahl for "a far more serious penalty than had been recommended by the Army's own investigating officer, who had testified that a jail sentence would be 'inappropriate.'" 
Bergdahl's defense attorney, Eugene Fidell, disagrees with the decision to try the case before a military court, but has promised to continue to defend the veteran, according to CNN, which also reported that six people died "during missions partly aimed at finding and rescuing" the disappeared Bergdahl. 
The case: In June of 2009, Bergdahl abandoned his Afghanistan post in the middle of the night and was taken by the Taliban, who held him captive until May 2014, when he was released into U.S. custody in exchange for five Taliban prisoners from Guantanamo. Following the preliminary hearing, the New York Times reported that no jail sentence would be sought for Bergdahl. According to Reuters, the investigating officer — Maj. Gen. Kenneth Dahl — does not believe that Bergdahl was sympathetic to the Taliban. 
Listen to Bergdahl's story unfold on Sarah Koenig's Serial podcast.