YG Drops 2 New Tracks, "City Mad" and "Goapele Freestyle," Via SoundCloud — Listen Here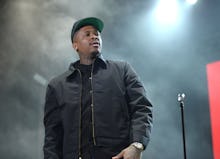 Compton hit-maker YG dropped two tracks titled "City Mad" featuring fellow rappers Mozzy and Slim400 and "Goapele Freestyle," a slower-paced track with tight verses from both the 25-year-old artist and Slim400. The songs were streaming via YG's 4Hunnid SoundCloud Monday afternoon.
According to Rap-Up, YG fans still need to wait until 2016 for a new album from the rapper. Still, the artist has had a busy few days, releasing several new songs with some big names in the rap industry, including Saturday's drop, "I Wanna Benz," featuring Nipsey Hussle and 50 Cent. 
While "City Mad" and "I Wanna Benz" are certainly club-bangers, "Goapele Freestyle" provides a glimpse into YG's personal lifestyle, including his challenges with fame and relationships:
"Man I did done hella shit, my niggas can't tell me nothin' / So I'm on with this rapping, lil' Buddha got me bragging / So I'ma show 'em what I'm here for / 400 records, no option."
Source: Soundcloud
Mozzy, Slim400 and YG unleash fire on "City Mad," rapping about the focus it takes in order to excel in the rap industry and reach the status of the elites. The track is produced by P-Lo, a member of the San Francisco Bay Area music production collective, The HBK Gang. 
Source: Soundcloud
Fans have been expressing their appreciation for the multiple surprise drops across social media since YG dropped "I Wanna Benz" over the weekend, using the hashtag #offmybullshit, as per YG's request: