CNN Republican Debate December 2015: Start Time, Moderators and How to Watch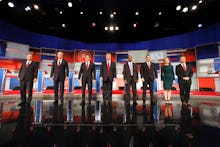 The fifth and last Republican debate of the year will occur Tuesday, Dec. 15 in Las Vegas and will feature the top nine polling GOP presidential contenders. CNN is airing the debate, which begins at 8:30 p.m. EST and will also be offering full coverage, starting at 5 p.m. EST.
Start time: The main debate — featuring frontrunner Donald Trump, Senator Ted Cruz, Senator Marco Rubio, Ohio Governor John Kasich, Dr. Ben Carson, New Jersey Governor Chris Christie, former Florida Governor Jeb Bush, Senator Rand Paul and ex-HP executive Carly Fiorina — will start at 8 p.m. EST. The early debate, featuring the candidates whose polling numbers didn't make the cut, starts at 6 p.m.
How to watch: CNN is airing the event, and will also be streaming it live on their website, CNN.com. Salem Radio Network is providing audio coverage of the event. 
Moderators: CNN's Wolf Blitzer, who hosts The Situation Room, will be hosting the primetime debate. Dana Bash, CNN's chief political correspondent, and Hugh Hewitt, a conservative talk show host, will be asking the questions. 
CNN previously hosted the Democratic debate in October, drawing 15.3 million viewers.