Latinas Had to Remind the Internet That Kylie Jenner Is Not Latina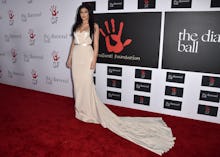 After a PopSugar article that compared Kylie Jenner to some of the most famous Latinas, including Jennifer Lopez and Selena, Latinas have spoken out against the comparison on Twitter. 
The article highlighted some of Jenner's Instagram posts and compared them to pictures of Latina celebrities. For instance, a picture of Jenner's butt was compared to pictures of Lopez's famous behind and a picture of a '90s-inspired ensemble garnered comparisons to still-reigning Queen Selena. 
What did Latinas — and others — have to say in return? 
Many black and Latina women were united in their dislike for the piece. Earlier this year, Jenner was involved in a controversy when she sported cornrows on an Instagram post. Hunger Games star Amandla Stenberg responded to Jenner and schooled her on cultural appropriation. 
Jenner has also gotten criticism for 2015's "Kylie Jenner Challenge" and the racial implications of her lips. 
Though a lot had questions as to why PopSugar would publish the article, there seemed to be only one question left: