Incubus Announces New Album: Everything We Know About Possible Release Date and Tour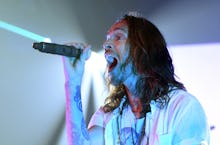 Incubus may be closer than ever to releasing their first new album since 2011's If Not Now, When?  lead singer Brandon Boyd announced this week.
"We plan on having new music out, I would assume by early 2016," Boyd said in an interview with Alternative Nation last week. "We are definitely going to be on tour as well, from the spring on I would assume."
Incubus hasn't released a new studio album since 2011, but in May the band released Trust Fall (Side A), an EP featuring four new songs, including lead single "Absolution Calling." 
So far, there is no official title or release date set yet for the new album, which will be the band's eighth. If Boyd's comments from last week are any indication, however, it's very close to being ready.