Kylie Jenner's Lip Kit Was Sold Out in Minutes Again — and Fans Aren't Pleased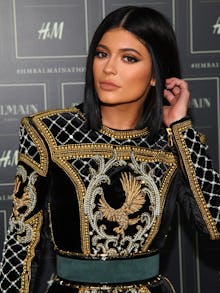 Teen queen and prominent member of the Kardashian family Kylie Jenner has turned her famous (and sometimes controversial) lips into a business by marketing Lip Kit by Kylie, a line of matte lipsticks that give fans their very own versions of the "Kylie Lip," according to the official website.
But Jenner's Kylie Lip Kit seems to have a chronic issue that's making potential buyers very, very angry: It's always sold out.
Sold out within minutes: When the line, which features Kylie-brand lipstick in three different shades, first launched in November, traffic on the site was so heavy that it crashed an hour after going live.
Since then, it hasn't gotten much easier to buy a Kylie Lip Kit. Posts on the brand's social media platforms promised that the kits would "restock" on Monday but, according to commenters who claimed they attempted to buy their lip kits the very same night, the collection sold out within minutes.
As of Monday evening, the website lists all three varieties of the Kylie Lip Kit as "sold out."
Twitter users are NOT happy: Rebuffed lip kit buyers have taken to Twitter to vent their frustrations about being shut-out yet again. And the struggle is very, very real.
Some had only themselves to blame:
And some were turning to higher powers:
But a very, very select few took to Twitter to announce their victorious success:
The frenzy surrounding the Kylie Lip Kit doesn't seem close to dying down, and many of her fans seem determined to do whatever it takes to buy a lip kit of their very own.