Dana Bash 101: Get to Know Moderator of CNN's Republican Presidential Debate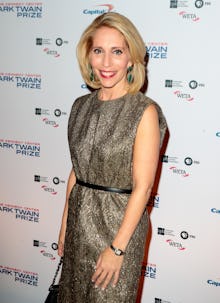 Dana Bash will preside over the fifth Republican presidential debate on Tuesday, alongside Wolf Blitzer and Hugh Hewitt. In preparation for the fifth and final GOP debate of the year, here's a Bash-101:
According to her CNN profile, Bash has been the network's chief political correspondent since 2008. Before she covered Congress for CNN, she served as their White House correspondent throughout the second Bush administration.
During the 2008 election, Bash was a part of CNN's America Votes coverage and conducted numerous interviews with then-candidate Senator John McCain. She covered the presidential primaries in 2000, and the 2004 election, as summarized on her profile.
She has covered many of the biggest news events of the past two decades, including Hurricane Katrina, the capture of Saddam Hussein, the Sept. 11 attacks in Washington, the Florida recount in the 2000 Bush-Gore election and the Clinton impeachment.
The National Press Foundation has twice awarded Bash its Dirksen Award: Once in 2002, when she reported on the government's covert al-Qaida intelligence, and again in 2010 for her coverage of "Congressional earmarks and 'holds,'" according to her bio.
Bash started her career as a Washington-based editor at CNN before becoming a producer of several of its news shows, including one with another of Tuesday's moderators, Wolf Blitzer.
Bash also served on the panels for the Sept. 16 Republican and the Oct. 13 Democratic debates.
Here's an interview with Bash and Republican hopeful, Ted Cruz, in which he defends his support of a religious test for Syrian refugees: