Sum 41 New Album: Latest on Possible Release Dates, Tracks, Producer and More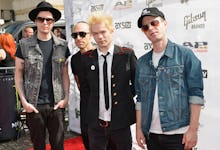 It's been more than four years since Canadian alt-rockers Sum 41 released Screaming Bloody Murder, but fortunately for fans, the wait for new music will soon be over: Band members Deryck Whibley, Cone McCaslin, Dave "Brownsound" Baksh, Tom Thacker and Frank Zummo are coming out with a sixth album, as of July 2015. It doesn't have a name or a release date yet, but it is available for pre-order on their PledgeMusic page. 
"WE'RE BACK!" reads the band's announcement. "It's been a crazy few years for all of us in one way or another, but with this much needed break and a new lease on life Sum 41 is back, and stronger and more excited than we have been in a long time. It's time to make a great record!"
Why the long wait? In April 2014, frontman Whibley was induced into a coma after years of heavy drinking collapsed his liver and kidneys, Noisey reports. Now sober and in recovery mode, Whibley is back to playing shows with his band, which guitarist Baksh rejoined at April's Alt Press Music Awards after a nine-year hiatus. As of Dec. 14, the band had "wrapped" drums on the in-the-works album.
How to listen: Fans who pre-order the album will automatically receive a digital copy for download on the album's release day, along with behind-the-scenes footage of the band writing the album, sneak peaks of songs and maybe even see the bandmates "get into a fight for two."