Everything You Need to Know About Hugh Hewitt, Co-Moderator of CNN's Republican Debate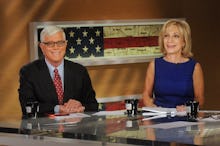 When the fifth Republican debate kicks off on Tuesday night, viewers will be introduced, many for the first time, to conservative journalist Hugh Hewitt, who will co-moderate the debate along with Wolf Blitzer and Dana Bash. 
Hewitt currently hosts the radio program The Hugh Hewitt Show which, according to his website, "is heard in more than 120 cities across the United States every weekday afternoon." He previously moderated the Sept. 16 Republican debate.
Hewitt, an Ohio native, attended Harvard before getting his law degree at the University of Michigan Law School. According to his website, Hewitt served in the Reagan administration for "nearly six years."
The radio host does have some history with some of the candidates who will be participating in Tuesday's debate: During a September appearance on Hewitt's show, current Republican frontrunner Donald Trump struggled to answer a question about the names of leaders of ISIS and al-Qaida, reported Politico. 
The next day, during an appearance on MSNBC's Morning Joe, Trump referred to Hewitt as a "third-rate radio announcer." 
"I love Donald Trump, he's the best interview in America," Hewitt told CNN when asked about his feelings toward the controversial candidate. The radio host will have yet another chance to question Trump, along with all the other candidates, when the debate airs on Tuesday night.