As Many as 1,000 Shiites Killed by Nigerian Military Over the Weekend, Activists Say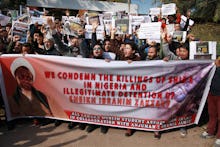 The Nigerian military removed bodies of Shiite Muslims on Monday in the aftermath of a bloody weekend-long clash between the parties in the northern Nigeria city of Zaria, activists say.
The army was reportedly trying to suppress the Islamic Movement of Nigeria, a pro-Iranian group of Shiite dissidents, headed by Ibrahim El-Zakzaky, who want to create an Islamic state within the country's borders. 
Human rights activists placed the number of casualties anywhere between hundreds and a thousand, describing it as "a massacre," Associated Press reports.
The origin of the violence is unclear, with conflicting accounts swirling. The Nigerian military alleged that army chief of staff Lt. Gen. Tukur Buratai was the subject of an assassination attempt, according to the BBC.
"Members of the Shiite sect, lead by El-Zakzaky, blocked the Sokoto road," Maj. Gen. Adeniyi Oyebado said, according to the Premium Times. "We thought that they were being overzealous, so two senior officers in the [chief of army staff] convoy came down from their vehicles appealing to these hoodlums to please clear the road so that the COAS can go ahead with his scheduled program."
However, the IMN maintain they did not attempt any such attack.
Two locations targeted by the military were an IMN shrine and the home of the group's leader, Ibrahim Zakzaky. While he sustained some bullet wounds, Zakzaky survived and was later arrested. 
"We have reports that bodies of our members killed outside the house of our leader are being evacuated in trucks by soldiers," Ibrahim Musa, an IMN spokesperson, told Agence France-Presse.
"Sheikh Ibrahim Zakzaky was arrested this morning in his demolished home by soldiers where he had been holed up in a room that was spared from the fire that gutted the house from grenades," Musa added.
Nigeria is about equally split between Christianity and Islam, with Sunni Muslims accounting for a vast majority of the latter population. Shias have historically been unwelcome in Sunni-populated areas of the world, with this weekend's incident the latest example.