'Adele Live in New York City' Recap: Best Moments, Video Clips and Twitter Reaction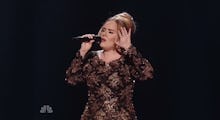 When Adele began crying after completing her first full concert in four years at Radio City Music Hall in New York City, fans did too. The performance, which aired Monday night on NBC and was taped back in November, showed Adele at her very best: performing some of her most classic hits to new power ballads off 25, from "Someone Like You" to "When We Were Young," cracking jokes with the audience and revealing candid confessions about her personal life and musical career.
Though Adele has been gone for quite some time before releasing 25 on Nov. 20 — three years, to be exact — she admitted that her surprise album drop and following performances makes her feel as though she's finally, fully back. "I know I've been quiet," Adele told the crowd. "I just wanted to come back and surprise you. I didn't want to tell you anything because I wanted it to be a surprise. I feel like this is the start now. We've been planning it for months and I'm just so happy and before the show I was like, 'Oh God I want it to be over,' because I was so nervous, but I've managed to remember every moment of this show."
The British powerhouse vocalist performed possibly her greatest hit off 25, "Hello," sounding nearly identical to the recorded version on the album. Fans immediately began cheering as the song began, and again when the chorus picked up and Adele began crooning the words, "Hello from the other side." 
Adele received a number of standing ovations, including after "Hello," "When We Were Young," "Someone Like You" and "All I Ask."
Below are several fan-recorded clips from Adele's live performance at Radio City Music Hall in New York City:
"Someone Like You":
"Set Fire to the Rain":
"Hometown Glory," featuring a tribute to France, honored the victims of the Paris terror attacks:
"Hello":
"When We Were Young":
Social media reaction: When Adele performs at an event as grandiose as the special which aired Monday night, everyone takes notice — including fellow celebrities, as well as a little thing called the world wide web. Twitter users set the social media site ablaze with a fury of tweets, with trending hashtags including #AdeleLive #AdeleLiveInNYC and #AdeleNewYorkCity.
Below are some of the most notable, relatable and candid reactions across the web from Adele's performance:
The concert followed Adele's announcement Monday morning that she would extend her massive world tour to North America, with dates and locations throughout Mexico, Canada and the United States.