David's Bridal Finally Casts a "Plus-Size" Model for Its Latest Campaign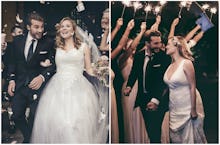 With bridal magazines frequently using uber-thin models to sell dresses and constantly reminding brides how to "Lose Weight Before Your Wedding!" it seems like the multi-billion-dollar wedding industry only has one body type in mind. 
But the mega-retailer for all things wedding, David's Bridal, is shaking things up. For its spring ad campaign, David's Bridal cast model Mercy Watson — who just happens to be a size 14. 
Watson may occupy the "plus-size" category in fashion, but for most shoppers, she's just the norm. The average American woman now wears a size 14. Yet these ads are likely seen by many women as a welcome surprise. At last, women can see how a stunning ivory dress would look on a woman who looks more like them than the models walking in Bridal Fashion Week or the ones posing in countless bridal catalogues. 
"We recognize that our customers are all different sizes and silhouettes, and felt it was important to reflect this diversity in our ad-campaign creative," Trevor Lunn, senior vice president at David's Bridal, told Refinery29. 
Watson was flown into London for the photo shoot, which celebrates David's Bridal's expansion into the U.K. Appropriately, the photos show Watson and her faux beau prancing around the city with iconic landmarks like Big Ben visible in the background. 
All the images, which Glamour magazine debuted on Monday, are exactly what you'd see in any other campaign for wedding dresses: the dramatic posing, the sparklers, the slow dance, the loving gaze. It goes to show that nothing really has to change once you take the leap and hire a model who looks like the majority of your audience. 
Under David's Bridal's Facebook post celebrating the campaign, fans confirm that they get the message and it's appreciated, with comments like, "Good job David's Bridal! Nice to know their average customer base size so they can market effectively and fairly."
Also an upside: Both of the dresses shown in the current campaign images are less than $1,000 and are available in a range of sizes, some up to a 26. The styles are expected to be in stores and online by December 29. 
"We are proud that these images further reinforce our commitment to helping every bride-to-be find the gown of her dreams, regardless of her shape, style, or budget, and are thrilled to have had the opportunity to work with a model as beautiful as Mercy," Lunn told Refinery 29.
h/t Glamour