Fetty Wap Just Released a Christmas Song Called "Merry Xmas"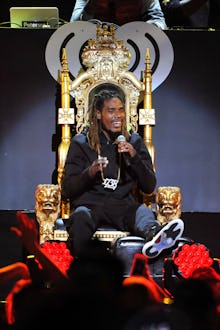 After a huge breakout year, Fetty Wap is giving back to his fans this holiday season in the best way he knows how. On Nov. 30 he released For My Fans, an EP with five new tracks. Tuesday, he offered a sixth, this one themed for the season: "Merry Xmas."
It's the best Christmas gift no Fetty Wap fan knew they needed.
Source: Soundcloud
The song is actually Fetty Wap's second foray into holiday merry-making. Two weeks ago, the rapper announced that he's getting into the ugly holiday sweater game, selling a crew neck depicting his face looking over a small, snowy city with the words "WAP" written across the sky. He debuted another, in red, on his Instagram Dec. 8 with the caption "Zoovie season."
With the sweater and now the song, Fetty is earning his hip-hop elder statesmen's Christmas cred. Just about every rapper in the game seems to be appearing on holiday sweaters this season — Drake, 2Chainz, Yeezy, Gucci Mane and Run the Jewels.