Planned Parenthood Is Defending Itself Against "Inflammatory" Allegations in Ohio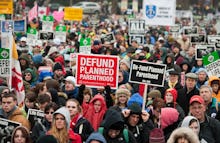 Tom Williams/Getty Images
Despite being repeatedly cleared of wrongdoing, Planned Parenthood affiliates across the country continue to face allegations of illegal activity. Ohio Attorney General Mike DeWine became the most recent conservative politician to target the organization, accusing them of violating a state code and "inhumane" activity. But Planned Parenthood is hardly taking the blow sitting down: Planned Parenthood filed a lawsuit Sunday to defend their ability to provide crucial services to an already underserved state and on Monday emerged victorious when a U.S. judge temporarily blocked the state of Ohio from taking legal action.
The accusations: DeWine says Planned Parenthood affiliates in Ohio have been improperly disposing of fetal tissue, according to a press release issued Friday. While DeWine stated his office's investigation into Planned Parenthood "did not find any indication that fetal tissue was sold by Planned Parenthood affiliates in Ohio," he still accused Planned Parenthood of employing companies that dispose fetal remains in landfills. This method of disposal, he argued, violates a code adopted in 1975 that requires fetuses to be disposed in a "humane manner." 
"Disposing of aborted fetuses from an abortion by sending them to a landfill is callous and completely inhumane," DeWine concluded in the press release. 
Planned Parenthood, however, adamantly disputes this claim. DeWine's "inflammatory and false allegations" — which were first announced to the press rather than formally communicated through the Department of Health and Human Services allowing the organization a chance to respond — are "absolutely not true," Planned Parenthood said Sunday in a press release. 
Rather than allow DeWine to introduce restrictive legislation based on his "bogus claims," Planned Parenthood filed a lawsuit to defend its compliance with state law. Specifically, the organization made clear that it uses licensed medical removal companies that "respectfully and safely" handle fetal tissue by sterilizing or incinerating it before disposal.
"We take our responsibility as a health care provider seriously, and if we ever thought that one of our vendors wasn't handling fetal tissue properly, we would take swift action," Stephanie Knight, president and CEO of Planned Parenthood of Greater Ohio, told reporters on Friday, according to Mother Jones.
On Monday, a U.S. judge agreed, temporarily prohibiting Ohio from pursuing legal action against Ohio-based Planned Parenthood affiliates, the Huffington Post reported. DeWine had planned to stop three of the Planned Parenthood facilities in the state from disposing of fetal remains in accordance with their current method — actions Planned Parenthood has interpreted as an attempt to further restrict abortion access to state residents, according to the report.
A legacy of attacks: Ohio joins a growing list of states accused of selling or otherwise mishandling fetal tissue or other illegal practices, mostly due to the pro-life organization Center for Medical Progress release of a series of sting videos. Although the videos were ultimately determined false, Planned Parenthood affiliates across the country were investigated — and repeatedly cleared of wrongdoing.
What's more, DeWine's accusation joins a growing legacy of attacks specifically wielded against Ohio women's reproductive rights and abortion access. Seven of Ohio's 16 abortion clinics have been closed in the past four years, placing Ohio just behind Texas in terms of national closures, the Huffington Post reported in May. Ohio's Republican Gov. John Kasich has also done much to curb abortion access in the state: He previously appointed Mike Gonidakis, president of the pro-life organization Ohio Right to Life, as a member of a state medical board, according to a 2013 Cleveland.com report, and helped draft language included in abortion restrictions included in the state's 2013 budget bill, WDTN reported last month.
The truth about Planned Parenthood: Although the Guttmacher Institute estimates that 1 in 3 women will have an abortion in her lifetime, lawmakers across the country have passed a record-breaking 231 abortion restriction laws in the last four years. Access to safe abortion services, like those provided by Planned Parenthood, is especially crucial for this vast population given emerging evidence that women aren't dissuaded by restricted abortion access, but choosing to dangerously attempt to self-induce their own abortions instead. Planned Parenthood may offer myriad services that extend beyond abortion, but the organization's function as an abortion provider is crucial to the American women who want to — and will — pursue the choice at any cost.
h/t Cosmopolitan