'Fantastic Beasts and Where to Find Them': Trailer, Plot and Info on 2016 Release Date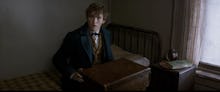 Get ready for a return to the wizarding world: Part one of Fantastic Beasts and Where to Find Them is coming to theaters Nov. 18, 2016, and Warner Bros. just released the trailer. Harry Potter fans can look forward to more sweeping adventures, magical creatures, mayhem, maybe some Hippogriffs and a new Hogwarts tale in these two additional installments in the film franchise.
Plot: This is a prequel of sorts. Set in 1926, according to ComingSoon.net, Fantastic Beasts follows the wizard Newt Scamander — author of Care of Magical Creatures textbook Fantastic Beasts and Where to Find Them from which the movie draws its name — as he embarks on a world tour of magical zoology. Scamander stops in New York, where he meets an American Muggle (which, in American parlance, is "No-Maj") and loses his "case full of magical creatures," some of which escape and are loose in the city — fantastic adventure ensues.
Who's in it: Fantastic Beasts stars Eddie Redmayne as Scamander, Katherine Waterston, Alison Sudol, Ezra Miller, Dan Fogler, Colin Farrell, Jenn Murray, Jon Voight, Carmen Ejogo, Gemma Chan and Faith Wood-Blagrove, and is directed by David Yates, who worked on the final four Harry Potter films. According to ComingSoon, David Heyman, also of the Harry Potter crew, returns as producer, joined by Steve Kloves (who wrote the screenplay for every Harry Potter movie except Order of the Phoenix), Lionel Wilgram, executive producer of the fifth, sixth, seventh and eight installments in the film series, and J.K. Rowling herself, who will also be writing the screenplay. 
Watch the trailer below.