Flint, Michigan, Goes Into a State of Emergency After Levels of Lead in Tap Water Soar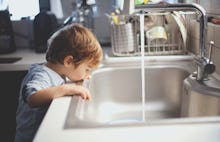 Mayor Karen Weaver of Flint, Michigan, declared a state of emergency on Monday night after it was shown that the Flint River from which the city derived its drinking water, contains high levels of lead that has shown up in the blood tests of children. 
"The City of Flint has experienced a man-made disaster by switching to the use of the Flint River," Weaver said in a statement. She cited the threat exposing the city's residents to such high levels of lead posed to children's development.
"This damage to children is irreversible and cause effects to a child's IQ, which will result in learning disabilities and the need for special education and mental health services and an increase in the juvenile system," Weaver write. As a result, she argued, her city requires federal assistance to deal with the problem.
The city switched from the more costly Detroit water system to the Flint River in April 2014. After complaints about the quality of the river water flooded in, the city offered free water filters. On Tuesday the Federal Emergency Management Agency sent 28,000 liters of bottled water to the area.
The crisis reached breaking point in late September when the locally based Hurley Medical Center published a study titled "Pediatric Lead Exposure in Flint, MI: Concerns from the Medical Community."
Shortly afterward, Michigan Gov. Rick Snyder announced a plan to return Flint to the Detroit water supply, and by Oct. 16 the switch had been made. But much of the damage had already been done.
"Lead is highly toxic, especially to young children," the Centers for Disease Control and Prevention explains in a document. "It can harm a child's brain, kidneys, bone marrow and other body systems. At high levels, lead can cause coma, convulsions and death."
On Nov. 13, a number of Flint residents filed a class-action federal lawsuit against those involved in the initial water source switch, from the individual level, including Snyder, to the state level, including all of Michigan.
"This class action is pursued on behalf of tens of thousands of residents ("Class") of the City of Flint ("Flint"), who from April 25, 2014, to the present, have experienced and will continue to experience serious personal injury and property damage caused by Defendants' deliberate decision to expose them to the extreme toxicity of water pumped from the Flint River into their homes, schools, hospitals, workplaces and public places," the complaint reads.
It adds that the defendants "deliberately deprived" Flint residents of their 14th Amendment rights to "life, liberty and property" when they replaced safe drinking water "with what they knew to be a highly toxic alternative solely for fiscal purposes."
In the interim, Weaver intends on doing everything possible to mitigate the damages. 
"I am requesting that all things be done necessary to address this state of emergency declaration, effective immediately," Weaver told the City Council on Monday, according to MLive.