MMA Fighter Holly Holm to Star in 'Fight Valley' Movie: Trailers, Plot and Release Date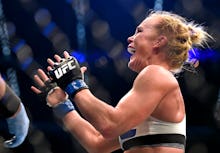 After notoriously beating up and defeating Ronda Rousey in November, it's time for bantamweight world champion Holly Holm to star in a feature film about beating people up. 
Holm will star alongside fellow MMA fighters Miesha Tate and Cris Cyborg in Fight Valley, a film by Breaking Glass Pictures that's set to be released in spring 2016, Complex magazine reports. A couple of teasers for the movie, one centered around Holm's role and the other a general trailer, feature a ton of fighting, aggressive dialogue and questionable acting. 
Fight Valley is an illegal street fight club, according to the site. In the film, Holm's character Payton Walsh is "the first one to ever show Jabs (Miesha Tate) a real fight."  
Breaking Glass Pictures describes the plot on the film's official website:
When Tory Coro turns up dead, the neighborhood turns up silent. Rumor has it she became yet another victim of the streets of Fight Valley. Tory's sister Windsor moves to town to begin her own investigation on her sister's mysterious death. 
Watch both teasers below: