Police Officer Found Not Guilty After Tasing Unresponsive Native American Man 28 Times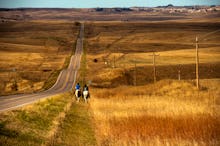 Former Oglala Sioux Tribe police officer Rebecca Sotherland was found not guilty of using unreasonable force by a federal jury last week. The indictment against her stemmed from an August 2014 incident where she used a Taser an estimated 28 times on an unresponsive man in Manderson, South Dakota.
The ex-officer faced three criminal charges, including "deprivation of constitutional rights, assault with a dangerous weapon and obstruction of a federal investigation by filing a false report," according to Indian Country Today Media Network. The Rapid City jury acquitted her of all three counts on Dec. 8, after a weeklong trial.
On Aug. 15, 2014, Sotherland, 33, was caught on video repeatedly tasing an intoxicated man named Jeffrey Eagle Bull. The Associated Press reported Bull, then 32, had drank a gallon of vodka. He had a blood alcohol content level of 0.319 four hours after consuming his last drink and was lying on the ground apparently too drunk to stand as Sotherland tried moving him into her patrol vehicle. Bull was not seriously injured in the August 2014 incident.
Below is cellphone video of the incident, recorded by a passerby. A 26-minute recording was also captured on the former officer's body camera and shown during Sotherland's trial.
Editor's note: This video contains disturbing footage. View with discretion.
Sotherland was fired shortly after the incident, according to KOTA-TV. Indian Country Today Media Network reported "she is not a tribal member and grew up in Hot Springs," two hours north of Manderson, which is on the Pine Ridge Indian Reservation in southern South Dakota.
Police violence against indigenous people in the U.S. is not often discussed, but it presents a stark set of disparities that bolster the ongoing debate around racism and law enforcement. Mic previously reported Native Americans were killed by police at rates nearly equivalent to those of black Americans between 1999 and 2013. Some figures suggest they are killed at even higher rates, relative to their percentage of the population and age group.
Alleged use of excessive force is also part of this equation. In November 2014, Christina Tahhahwah, a 37-year-old member of the Comanche Nation, was found unresponsive in a Lawton, Oklahoma, jail cell after a bipolar episode. Witnesses say she was tased for refusing to obey commands from police officers, according to reports.
Though stun guns are framed as nonlethal weapons, they often have brutal effects. Mic previously reported these weapons do not actually electrocute people — contrary to popular belief — but instead send low-current pulses that manipulate the body's reflex neurons, triggering uncontrollable muscle reactions and cramps by disrupting signals between brain and muscle.
The Sotherland verdict comes two years after the Pine Ridge Reservation narrowly voted to end a reservation-wide ban on alcohol, according to Indian Country Today Media Network.
h/t Indian Country Today Media Network