The Governor of New York Just Took a Bold Stand in Defense of Muslim Refugees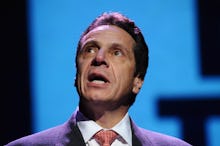 New York Gov. Andrew Cuomo isn't just devoted to welcoming immigrants of all backgrounds to New York. He thinks that any argument to the contrary is absurd.
Speaking Monday at the National Immigrant Integration Conference about emerging challenges to American immigration policy, he homed in on the hypocrisy of arguments against allowing Syrian refugees into the country.
"You're going to keep the Syrians out?" Cuomo said, according to the Huffington Post. "Who are you? Are you a Navajo? Are you a Sioux? Are you an Apache? Are you Native American?"
Dozens of Republican governors have pledged to refuse to allow Syrian refugees into their states, a legally indefensible but politically expedient stance. Republican presidential candidates such as Jeb Bush and Sen. Ted Cruz of Texas have recommended religious tests for refugees fleeing the war-torn nation, which would exclusively or preferentially take in Christian refugees over Muslim ones.
Cuomo also took aim at GOP presidential frontrunner Donald Trump's proposal for a ban on Muslim immigration into the United States.
"We believe in freedom of religion," Cuomo said, according to the Huffington Post. "It's one of the founding premises of the entire country."
Cuomo said the debate over immigration marked "a critical time in this country's development," but hoped that an open mind would prevail.
"I know people are scared and know there are those who will play on those fears," Cuomo said. "But I know that we are better than that at the end of the day ... We will not allow fear to overtake optimism and we will not allow hatred to overtake love."
Not so easy: Many of Cuomo's fellow New Yorkers don't share his enthusiasm over refugees. According to a Siena College poll released Monday, 52% of registered voters in New York oppose allowing Syrian refugees into the United States, while 39% support their entry. Close to 90% are at least somewhat concerned about another terrorist attack in New York in the near future.
That deep concern over terrorist attacks, which in turn shapes perception of immigration policy, is a national phenomenon:
The surge in attention to terrorism is by no means guaranteed to last. But should there be any major attacks in the coming year, it could dramatically reshape the 2016 election, and add yet another obstacle for the long sought after goal of progressive immigration reform.
h/t Huffington Post