Howard Stern Just Signed a New 5-Year Deal With SiriusXM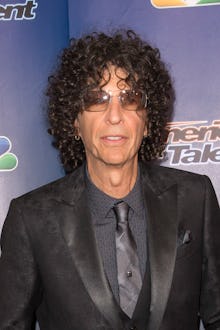 Radio and television host Howard Stern signed a five-year contract Tuesday to stay with SiriusXM, and his fans are showing their excitement on Twitter.
"My inclination was to stay here, but I didn't know if it could all be worked out," Stern said on his Sirius talk show Tuesday, according to CNN Money. "And literally, yesterday when I told you I had no idea what we're going to be doing, I was telling you the truth. I wasn't 100% sure what the fuck we were going to be doing." 
This means that Stern's SiriusXM Howard 100 channel, including The Howard Stern Show and other special coverage, lives on for at least five more years, the Associated Press reported. The deal also includes first-time Sirius video coverage of Stern and gives the radio company access to Stern's radio and TV archives for 12 years.
Fans were tweeting in anticipation leading up to the announcement, and afterward tweeted that it "made their day" and they "cried tears of joy."
Stern joined Sirius in 2004, CNN Money reported, and re-signed with the satellite radio giant in 2010 for $80 million a year, a contract that expired Wednesday. The agreement was several months in the making, according to a statement.
"As a broadcaster, it does not get better than working at SiriusXM and I'm truly excited for the future with this great company," Stern said in the statement. "I happen to think that its best days are ahead. So, if you are not listening to SiriusXM and The Howard Stern Show, then you are really more like a zombie, a rotting corpse monster, living half a life, deadened and blackened inside. It's as if you were still watching black and white television while shopping in actual stores on your way to the post office to fax a memo."