The Iconic Madonna Corset Just Got an Awesome Plus-Size Update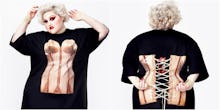 A corset doesn't have to be a constricting artifact from the past. In fact, it's a sexy enough symbol on its own that it can be worn on all types of bodies.
Now, thanks to a collaboration between Jean Paul Gaultier, one of fashion's most legendary designers, and Beth Ditto, one of indie music's stars, one of the most famous corsets in pop culture history is now a T-shirt. The long, solid black tee features an image of Gaultier's famous cone-bra corset, the style worn by Madonna on her 1990 Blonde Ambition tour, complete with ribbons in the back for cinching just so. 
"Big girls are beautiful, and Beth is super beautiful!" Gaultier is quoted as saying on Beth Ditto's website. "Long live the beauty with shapes, boobs and bottoms. This is a new concept, a loose fit corset. And Beth fits it perfectly."
"Jean Paul is the most generous, positive person. He truly loves women of all sizes and ages and knows how to make everyone feel gorgeous," Ditto said on her website.
The shirt is a collaborative project between Ditto and Gaultier, who have been friends for years. In 2010, Gaultier put Ditto on the runway to model his spring collection, making her one of a handful of plus-size women who walked that night.
The T-shirt is part of an upcoming plus-size clothing collection by Ditto, who is known for her punk-rock aesthetic. The full collection, which will drop in February 2016, will reflect her love of vintage, silk and embroidery — in short, a love of styles like the Gaultier corset. 
Before Gaultier and Madonna, corsets were seen as constrictive artifact of limiting women's fashion, according to the New York Times. But Gaultier and his most famous model made it a sign of liberation. The look was so memorable that in 2012, the iconic cone-shaped costume sold for $52,000 at Christie's, according to Billboard. 
That makes Beth Ditto's new shirt, for a cool $165, seem like quite a steal.
h/t/ Dazed