'Veep' Director Stephanie Laing Announces PYPO, a Female-Driven Comedy Website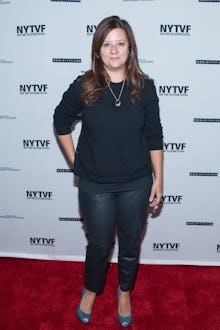 Ladies, girls, lovelies, bitches, MILFs, princesses and women of the Internet: On Jan. 4, Veep director and executive producer Stephanie Laing is launching PYPO, her comedy site "designed to engage, inspire and entertain" a female readership, Mashable reported. The announcement came Friday in the form of a tweet, a follow-up to a Dec. 1 Medium essay — "It's Five O'Clock Somewhere, but It's Time for Women Everywhere" — in which Laing discussed the harassment and discrimination she's faced in her two-plus decades working in media, as well as her reasons for creating her female-focused site.
"PYPO will be a fun, frank and disruptive platform where we take control of the conversation," Laing wrote in her Medium essay. "We're taking back lady, bitch, girl, milf, sweetie, honey and more, only to redefine them. We'll update 'having it all' and show the world how we 'put our pretty on.' We have to help each other."
What does it mean? PYPO is an acronym for "Put Your Pretty On," a phrase conceived by Laing's daughter in which "pretty" functions as a synonym for "Chapstick," and which "represents 'pretty' from the inside out and validation," Laing wrote in her essay. 
The mission: According to Mashable, PYPO's news release states the site exists to "start a two-way conversation with women and men everywhere and to bring honest, open perspectives into the stories/issues discussed across the internet." Visitors can look forward to collaborative editorial content and original sketch comedy centered around weekly themes, Mashable reports.
Who's on board: Laing directs and produces HBO's Veep (for which she won the 2015 outstanding comedy series Emmy after nominations three years running), is the mother of three and was just nominated for a Golden Globe, according to Mashable. Her co-creator is Susan Paley (former Beats by Dre CEO), and her editor-in-chief will be Elizabeth Thorp of Capitol File magazine, Jezebel reports, listing Georgia Pritchett and Tony Roche (who both write for Veep), Lea Goldman (Marie Claire executive editor), Paula Froelich (New York Times best-selling author and Yahoo Travel editor), Laurie Cole (one of SoulCycle's original instructors) and Jessica Richards (Cool Hunting stylist and Shen Beauty founder) as among its pool of content contributors.
Sign up for the weekly newsletter here.