This Brain Scan Image Illustrates the Powerful Bond Between Mother and Child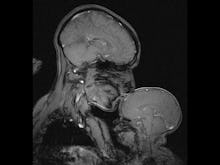 While most new moms get their children's first portrait done at, say, the local mall's JC Penney Portrait Studio, neuroscientist Rebecca Saxe opted for a slightly different location: the tube of an MRI scanner.
"No one, to my knowledge, had ever made an MR image of a mother and child," she wrote in a article for Smithsonian magazine.
"We made this one because we wanted to see it."
A Professor of Cognitive Neuroscience at the Massachusetts Institute of Technology, Saxe told Mic that the inspiration behind the photo had little to do with the typical medical or research-based uses of MRI technology. 
"We see brain scan images on TV and in subways advertisements as a proxy for technology and progress... [and] the Madonna is one of the oldest tropes in human art making," she said of trying to capture the union between science and art in the image.
"These brain scanners are extremely modern technology, only available here and now, to the wealthiest place and time in human history," she added. "[Yet] the image you see would look the same if it had been made on any continent or in any century, because the biology of human mothers and children you see in the picture has been the same for thousands, probably tens of thousands of years."
In an interview with Today, Saxe suggested that the image may be indicative of how a child's brain development is strengthened by a mother's love. "Some people look at it and see mostly the differences: how thin his skull is, how little space there is between the outside world and his brain. It's just this very fragile, very thin little shell," she said. "On the other hand, you can look at it and see how similar it is to his mother's brain. How close in size — so much closer in size than his hand is."
Past MRI scans have also suggested that the bond between a child and mother can indeed have a major impact on brain size. Back in 2012, a side-by-side image of two three-year-olds' brain scans indicated that the size of a neglected child's brain is significantly smaller than one who was nurtured by his or her mother. Of that particular image, neurology professor Allan Schore told the Telegraph that the development of brain cells is a "consequence of an infant's interaction with the main caregiver [usually the mother]."
Meanwhile, Saxe believes that the image can also help generate an interest in science. "I hope the main takeaway is that people who don't normally feel a human connection to science and scientists, have a moment to pause and feel touched, and recognize that the scientific pursuit of self-knowledge is being done for, and by, people like us," she told Mic.
h/t Cosmopolitan