Here's How to Add a Lightsaber to Your Facebook Profile Picture for 'Star Wars' 7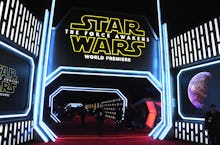 Just when you thought the upcoming seventh Star Wars film The Force Awakens, in theaters Thursday, couldn't infiltrate social media more, an option to add a lightsaber to your Facebook profile picture is a reminder that too much Star Wars is never enough.
The official Star Wars Facebook page announced the option for Facebook users geek out or "awaken the force within" by overlaying their profile pictures with the lead character Finn's lightsaber. The post provides a link to test it out and allows users to preview how it looks before making the commitment. 
Adding the lightsaber: Once users click "try it," they can adjust the positioning of the lightsaber over their profile picture, choose Jedi or Sith and set a temporary amount of time before sharing their Star Wars solidarity with the rest of the Facebook world. 
The feature didn't come without controversy from Star Wars fans, of course, who commented on the post that the lightsaber isn't technically Finn's. Other users pointed out it's just a Facebook photo and everyone needs to chill out. 
Star Wars: The Force Awakens is set to break box-office records upon its Thursday release. The film is expected to earn somewhere between $175 million to $250 million in the United States and Canada alone in its first week, breaking the $85 million record held by Hobbit: An Unexpected Journey for a movie released in December, and rake in a whopping $1.5 to $2 billion in total. 
Watch the full trailer below: