Artist Says Taylor Swift Stole Her Fox Drawing to Promote '1989'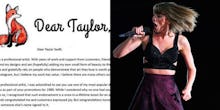 It's the curious case of T-Swift and the fox: An artist named Ally Burguieres posted an open letter Friday on Facebook to Taylor Swift about a sketch she says the international pop star used without permission across social media in an effort to promote her latest album 1989. The news follows several open letters Swift recently penned calling on streaming services to pay artists for their work, making the entire situation ironic, confusing and questionable.
"As a professional artist, I was astonished to see you use one of my most popular designs on all your official social media platforms as part of your promotions for 1989," Burguieres wrote of her initial discovery of the promotion, which features a fox drawing identical to the one she created and shared online prior to Swift's use of the image, as well as lyrics from "I Know Places." 
According to Burguieres, Swift's post including the fox drawing was deleted from Swift's social media accounts four days after the message was posted following 1989's Oct. 27, 2014, release date. She writes the image had already gone viral by that point, however, and with another alleged artist's signature underneath it.
"While I wondered why no one had sought permission or offered compensation to do so, I recognized that such endorsement is a once-in-a-lifetime boost for an artist and can skyrocket an artist's career," Burguieres, who makes a living off revenue created from her work, wrote. "Friends congratulated me and customers expressed joy. But congratulations turned to confusion. The design was a copy, and with someone else's name signed to it."
Swift has been a longtime advocate for giving credit where credit is due: In multiple open letters, Swift states the reason she refused to allow her album to stream on both Spotify and Apple Music were to protect smaller artists.
"This is not about me," Swift wrote in her latest open letter, published on her Tumblr June 21. "This is about the new artist or band that has just released their first single and will not be paid for its success. This is about the young songwriter who just got his or her first cut and thought that the royalties from that would get them out of debt ... These are not the complaints of a spoiled, petulant child."
A particularly jarring moment in Burguires' post comes when she writes about an alleged interaction she experienced when dealing with Swift's camp.
"After months of effort, I received an offer from you and your team that mentions no credit to me as the artist of the design, but does include payment of a 'four-figure' amount, with the stipulation that I must donate it all," Burguieres wrote, explaining that Swift's team of lawyers offered to pay her for her art so long as she donated the entire check to a charity organization. 
"Taylor, as a professional, would you agree to such terms from Apple, or Spotify? My work is my living — it is how I pay bills and support my family and employees. Many of your fans are professional artists, and support themselves and their families with earnings from their intellectual property. Would you really profit from and distribute a copy of their work to millions of people, and then tell them they don't deserve professional recognition or compensation?"
Swift has yet to respond to the allegations. Read Burguires' full post here.