All LAUSD Schools Shut Down After Credible Threat Reported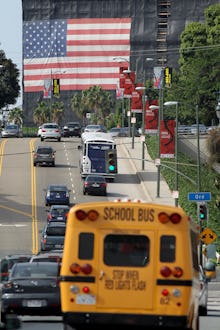 The Associated Press is reporting the "'credible threat' of violence involving backpacks and packages left at campuses," according to the Los Angeles Times, is believed to be a hoax, according to a House Intelligence Committee member. The entire Los Angeles Unified School District were closed Tuesday as authorities investigated the claims and the district's superintendent held a nationally televised press conference. Another report from NBC News stated the threat was sent in an email to the city school district's board, according to multiple sources. 
The LAUSD superintendent later stated the threat to the district came from overseas, with reports stating the I.P. address used in the threat originated from Frankfurt, Germany. 
"We have an emergency," Sharon Robinson, chief of staff to Los Angeles Unified School District board member George McKenna III, told Mic. "All I can tell you is we have a threat and we closed down all the schools. All the schools will be inspected and the superintendent will make an announcement this afternoon."
BNO News, a breaking news source, reported a bomb threat was issued to one of the district's board members. The Los Angeles Police Department is investigating the threat as all district campuses are closed for the day. Coincidentally, authorities in New York reported a non-credible threat similar to LAUSD's, involving an email about a bomb, though police commissioner Bratton said "We are very comfortable that this is not a credible threat...concerned with people overreacting to it," according to a tweet from NYPDNews.
CNN reports there are at least 660,000 students in the LAUSD. Superintendent Ramon Cortines said all students are safe, and the schools will remain shut down until further notice. "The superintendent called all principals to let them know what was going on," a man at Los Angeles' Washington Irving Middle School who declined to give his name told Mic.
"I think the circumstances in neighboring San Bernardino, I think what has happened in the nation, I think what happened internationally — I, as superintendent, am not going to take the chance with the life of a student." he said in a press conference. He also announced a statement with further details would be released later Tuesday afternoon. 
Some students were already on campuses throughout the California area when the threat was reported and buses were rerouted to go back to their depots, likely leaving students stranded without a way home. Los Angeles authorities are urging employers to cooperate with parents as they coordinate logistics with their families.
"Any students that have already been dropped off should be retrieved by parents or guardians," Samuel Gilstrap, a spokesman for the district told Mic. Any parents with questions regarding the district's closure should call 213-241-2064.
LAUSD is the second largest school district in the United States.
This is a breaking story and will be updated with new developments.
Dec. 15, 2015, 3:52 p.m. Eastern: This story has been updated.