CNN Republican Debate 2015 Livestream: Watch Live Online Coverage of GOP Debate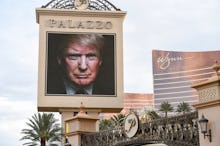 Live from the Venetian hotel in Las Vegas, Nevada, the last of the 2015 GOP presidential debates kicks off Tuesday night on CNN at 8:30 p.m. Eastern, with the four-candidate early debate beginning at 6 p.m. Viewers who don't have access to the TV channel can watch both events on CNN.com's free livestream. 
For mobile viewing, see this page to find the best platform for your smartphone or tablet. Salem Media Group will handle the radio broadcast of the event — click here for a list of local stations. 
Nine candidates — frontrunner Donald Trump, Texas Sen. Ted Cruz, retired neurosurgeon Ben Carson, former Florida Gov. Jeb Bush, Florida Sen. Marco Rubio, former business executive Carly Fiorina, New Jersey Gov. Chris Christie, Ohio Gov. John Kasich and Kentucky Sen. Rand Paul — have qualified for the main event, while former Arkansas Gov. Mike Huckabee, South Carolina Sen. Lindsey Graham, former New York Gov. George Pataki and former Pennsylvania Sen. Rick Santorum failed to rally enough support at the polls to elevate them out of the undercard debate.