This Lawmaker Wants to Regulate Men's Erections to Make a Point About Reproductive Rights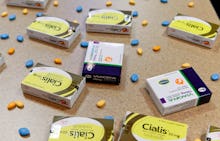 Rep. Mia McLeod (D-Columbia) is sick of her fellow lawmakers' efforts to impose more and more restrictions on women's reproductive rights. So the South Carolina state representative is giving the men at the statehouse a taste of their own medicine — by making their "medicine" harder to get. 
In advance of the upcoming legislative session in January, McLeod pre-filed a bill that would restrict men's access to erectile-dysfunction medication like Viagra and Cialis. The proposed bill was inspired by the stipulations in the Targeted Regulation of Abortion Providers laws, which are aimed at reducing women's access to abortion. 
Under McLeod's proposed law, patients would be prohibited from getting a prescription for ED drugs without notarized affidavits from at least one of their sexual partners, verifying an experience of erectile dysfunction within the previous 90 days.
"Those who are adamant about introducing some type of abortion bill every session, that's really what this is about," McLeod told the Free Times, a newspaper serving the Columbia, South Carolina, area. "I'm just sick of it. ... We've got much bigger fish to fry. I just decided that until they could stay out my uterus, I would refuse to stay out of their bedroom." 
McLeod's proposal goes beyond requiring legal documentation to get access to ED meds. It includes a few medical requirements as well. Patients would have to undergo a cardiac stress test and counseling "to pursue celibacy as a viable lifestyle choice" in addition to receiving written warnings of the dangers of erectile dysfunction medication. There's also a mandatory 24-hour waiting period before receiving the prescription, which is modeled after South Carolina's mandatory 24-hour waiting period for abortion. 
"All the things that [anti-abortion legislators] come up with are invasive," McLeod told the Free Times. "They're not necessary. I just think it's time for a little pushback on that end."
"I just decided that until they could stay out my uterus, I would refuse to stay out of their bedroom." 
McLeod isn't the first legislator to try to make a point about overly stringent laws regarding women's health, nor is she the only one to draw a connection between regulating abortion and regulating erections. 
In 2012, Illinois State Rep. Kelly Cassidy protested a bill requiring women to undergo ultrasounds before abortions by tacking on an amendment that would force men who want ED medication to watch a graphic video about the drugs' potential side effects. Virginia Sen. Janet Howell took it one step further that same year: She sponsored an amendment to a similar bill, but hers required all men seeking Viagra to submit to a rectal exam. 
In Ohio, Sen. Nina Turner introduced a measure just like McLeod's, which she considered a rallying cry for women across the country to demand equal access to healthcare. Or, at the very least, equal scrutiny on men's reproductive choices. 
"It's not a joke," Turner told the Cleveland Plain Dealer of her proposal. "I'm dead serious. I want to continue this strong dialogue about what is fair and what is equal."
Whether or not McLeod's law has a shot at actually passing is doubtful. (At the time of publication, McLeod could not be reached for comment.) But as the number of laws placing restrictions on abortion access grows higher each legislative session, restricting men's access to boner meds doesn't seem like such a bad idea. 
h/t Post and Courier
Get the five stories that will challenge you to rethink the world by signing up for MicCheck Daily.