A Baby With a Rare Brain Condition Lived to Meet Santa — And the Pictures Are Going Viral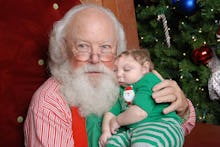 For thousands of kids across the country, visiting Santa Claus at the mall is a standard yearly tradition. But for baby Jaxon, sitting on Santa's lap proved nothing short of extraordinary.
Jaxon was born in August 2014, with a rare condition called microhydranencephaly — an extreme brain malformation with no cure, according to CNN. Doctors didn't expect Jaxon to survive a week, ABC News reports, but so far he's defied all odds and lived past his first birthday — a "miraculous milestone," his parents wrote — and is still going strong.
Jaxon recently accomplished yet another miraculous milestone: meeting Santa for the first time. Mom Brittany Buell shared the heartwarming photos in a Facebook album.
"There are no words ... but when I look at these, these are the true meanings of Christmas," one commenter wrote. "God bless. Merry Christmas Jaxon."
"Even Santa fell in love!!!!!!" another wrote. 
Over on his Facebook page, dad Brandon Buell said it was one of Jaxon's "best days ever." "He was in a great mood all day and got to meet Santa for the very first time," Buell wrote. 
"Tonight, we started watching Rudolph and Jaxon became very talkative with Mommy," he continued. "Lots of snuggling, lots of talking, and he's getting better each day with interacting and communicating with us, and now even playing with us. More big milestones for our little guy!"
Apparently, Jaxon is quite the Christmas fanatic. In another Facebook post, his dad shared a photo of "a happy Jaxon looking at and feeling the Christmas tree. He got so excited!"