Facebook Users Thought an Anti-ISIS Rally Was a Pro-ISIS Rally in Michigan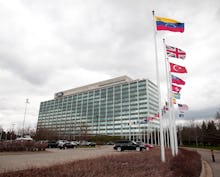 A Facebook photo allegedly depicting a recent pro-Islamic State rally in Dearborn, Michigan, is actually an anti-ISIS rally, according to New York magazine.
NY's Jesse Singal reports a "Facebook correspondent" reached out to him Monday with a link to the image below, which had been shared more than 3,760 times on Facebook and retweeted at least 1,312 times.
The Facebook post reportedly read, "This is Dearborn, Michigan, after the radical Islamic attack in California! These are ISIS flags and ISIS supporters folks but the media has not reported because of politically [sic] correctness."
Dearborn, a suburb of Detroit, is home to one of the United States' largest Arab-American populations at reportedly more than 40% in 2013, and residents elected a majority-Arab-American city council that year, according to USA Today.
According to Singal, a reverse-image search quickly turned up a Snopes post in which the author — who confirmed with the Dearborn public information and police departments that no pro-ISIS rally had taken place in December, when the photo was posted, or at any other time — concludes the photo actually showed a demonstration against the Islamic State that marched through Dearborn on Dec. 5.
A write-up of that rally appeared at WXYZ-Detroit around the same time as the Facebook post. 
Singal performed additional research on Google Maps and concluded — based on visual evidence presented in the photo — that anti-ISIS rallies which took place around that time likely used the route depicted in the alleged pro-ISIS image.
Anti-Muslim rhetoric has gained traction in the U.S. since a group of ISIS-inspired gunmen killed at least 129 people in Paris on Nov. 13. Many state governors and Republican presidential candidates have since spoken out against letting refugees fleeing war in Syria and Iraq settle in the U.S. 
Matters escalated when another group of attackers killed 14 at a health care center in San Bernardino, California, on Dec. 2. Those attackers are alleged to have been inspired by ISIS as well.
Perhaps the most vocal proponent of Islamophobia has been Donald Trump, who has called for a ban on Muslim immigrants entering the U.S. and suggested he would implement a database in which all Muslims in the country would have to register. Trump's anti-Muslim rhetoric has resonated with a significant portion of the American voting public, which is what makes Facebook posts like that pictured above so troubling. He currently leads all candidates among Republican primary voters.
Get the five stories that will challenge you to rethink the world by signing up for MicCheck Daily.