Beyoncé Dressed as a Christmas Tree for Her Holiday Party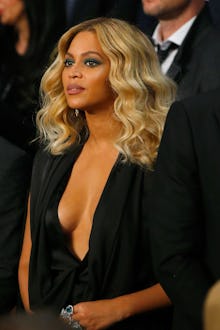 Beyoncé went all out for her holiday party when she showed up dressed as either a chic Christmas tree or just someone who ran to Party City last minute and bought all the Christmas-themed accessories they had left — it's up to interpretation.
Queen Bey arrived at the party in New York City on Monday night donning a full-length cardigan decked in ornaments and tinsel, Christmas tree sunglasses, a santa hat, a striped sweater dress and oversized hoop earrings. She looked fabulous because, well, Beyoncé  — but it's a look most normals couldn't pull off without being the laughing stock of the party.
Check out her bold holiday look below: