Seattle Just Became the First City to Allow Uber and Lyft Drivers to Unionize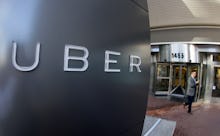 The Seattle City Council on Monday voted unanimously to approve a measure that would allow private ride-sharing drivers, like those who work for Uber and Lyft, to unionize. The unanimous vote extends collective bargaining rights to the drivers despite their legal classification as "independent contractors" rather than employees. 
The National Labor Relations Act has historically not extended support to independent contractors, but the decision alone nevertheless stands as a major milestone for organized labor.
"We've heard from Seattle drivers making sub-minimum wage, and companies like Uber have turned a deaf ear to their concerns," Councilor Mike O'Brien said in a statement. "This bill was only introduced out of necessity after witnessing how little power drivers themselves had in working for a living wage." Mic reached out to multiple City Council members, but did not hear back.
The decision stirred passion on both sides, but those who came to the council meeting were largely in favor of the council's action. According to media accounts, spectators erupted in cheers after the vote was taken.
Not everyone was happy with the outcome, with representatives from both Uber and Lyft denouncing the move. "The ordinance passed today threatens the privacy of drivers, imposes substantial costs on passengers and the City, and conflicts with longstanding federal law," Lyft said in a statement provided to Mic. "We urge the mayor and full Council to reconsider this legislation and listen to the voices of their constituents who choose to drive with Lyft because of the flexible economic opportunity it offers."
In a statement to the Associated Press, Uber added that it was "creating new opportunities for many people to earn a better living on their own time and their own terms."
For Uber in particular, the move comes as the company has been buffeted by bad news on a number of fronts in recent months. In June, the California Labor Relations Commission ruled that Uber would have to treat drivers as employees rather than independent contractors — a decision that would not only open the door for unionization but essentially explode Uber's wildly profitable business model. In New York City, Mayor Bill de Blasio attempted to sharply limit the number of Uber drivers allowed on the road before backing down after an all-out lobbying effort by the company. In the past, Uber has also faced accusations of misogyny and worse. 
Seattle has a long history as a hotbed of union activity. The city was the site of the country's first general strike in 1919, which saw nearly 100,000 workers walk off the job over the course of six days. But with experts saying a legal challenge to the Seattle decision is almost certain, it remains to be seen whether the move by the Emerald City will be emulated around the country.