One Direction's Liam Payne's Collaboration with Juicy J Is Coming Soon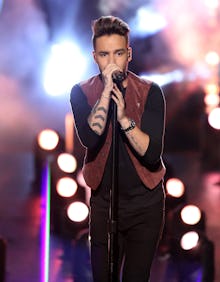 After One Direction announced an 18-month hiatus Sunday, band member Liam Payne's long-awaited collaboration with rapper and producer Juicy J is coming soon. It's not clear exactly what they're working on, but it's something musical and it's coming.
That's according to a tweet Juicy J, real name Jordan Houston, posted Monday — that said the "stuff" he and Payne have been working on is "coming soon." Juicy J posted an Instagram of him and Payne in the studio 10 months ago captioned "we working!" with no further details — and not much had been until Monday.
The Instagram may have confused fans as it was posted long before the band announced they'd take a break to work on solo careers, but the recent announcement reignited curiosity. 
1D honored themselves and blessed fans with a heartfelt final (for now) performance on The X Factor in London on Sunday after announcing the year-and-a-half break as the hashtag #ThisIsNotTheEndOfOneDirection began trending on social media.