Judge Declares Hung Jury in William Porter Trial for Freddie Gray's Death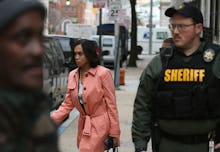 A judge declared a hung jury in the case of Baltimore Police Officer William Porter, on trial for his alleged role in the death of Freddie Gray in April. Porter faced charges of manslaughter, assault, reckless endangerment and misconduct, which could have earned him up to 10 years in prison if the jury found him guilty. On Tuesday, the jury was deadlocked, deliberating for a third day on Wednesday, but ultimately unable to reach a unanimous decision on any of the charges against Porter. A mistrial was declared Wednesday.
According to CNN, both the prosecution and defense will go to court on Thursday morning to determine if and when the case will be re-tried. 
The case: Gray, 25, died on April 19, one week after suffering a "high-energy" injury to his spinal cord in the back of a transport police van. When the vehicle came to a sudden stop, Gray — who was shackled but not wearing a seat belt — jolted forward and hit his neck. By the time the vehicle arrived at the station, Gray was no longer breathing. 
NPR's Jennifer Ludden reported Sunday that the trial hinged on when the injury occurred: before or after Porter checked on Gray, who allegedly made it clear that he couldn't breathe and asked for medical attention. If the jury believes Porter — who did not put a seat belt on Gray because he believed Gray might get his gun, despite wrist and ankle restraints — knew about Gray's condition and ignored his request for a medic, he will likely be found guilty; if the jury believes that Gray broke his neck after Porter checked on him and just before they arrived at the police station, the charges against Porter will likely be less severe. 
The other officers: Porter is the first officer to stand trial for Gray's death; the other five — Caesar R. Goodson Jr., Garrett E. Miller, Edward M. Nero, Alicia D. White and Brian W. Rice — will also be tried between January and March in Baltimore, after a judge ruled on Sept. 10 that "defense lawyers had 'not met their constitutional burden' for moving the trials to another jurisdiction," according to the New York Times.
Baltimore Circuit Judge Barry Williams tried Porter's case and denied the defense's request for a mistrial on Tuesday. The defense argued that a letter circulated by the CEO of Baltimore's public school system (Gregory E. Thornton), warning of "civil disorders" comparable to those seen last April in the wake of the verdict, could color the jury's verdict.
The reaction in Baltimore: Following Gray's funeral last April, protests turned into riots in Baltimore; now, the city is wary of a similar reaction. Baltimore Police Commissioner Kevin Davis "challenged officers to defy the public's dismal expectations of the agency, regardless of the verdict," the Chicago Tribune reported. "We take the ideals of service and protection seriously, and reject the notion that any particular circumstance or moment can sully our unconditional dedication to our police department, our profession, and our city," he wrote in a letter to the police department. 
Correction: Dec. 16, 2015