'Divanation' on Netflix: Goldie Hawn, Bette Midler and Diane Keaton Reunite for New Film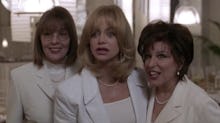 Veteran actresses and co-stars of the 1996 film The First Wives Club Goldie Hawn, Bette Midler and Diane Keaton are reuniting to star in an upcoming Netflix feature comedy film called Divanation as members of a has-been girl band that reconvenes after 30 years, according to Deadline. The characters are forced to reunite in the film 30 years after a tense breakup, according to Deadline, in what becomes an even tenser and consequently humorous reunion. The film comes 20 years after Hawn, Midler and Keaton starred in The First Wives Club in which they played three divorced women who team up to get back at their husbands for trading them in for younger models.
Lisa Addario and Joe Syracuse penned the script, according to the Hollywood Reporter, and five producers are working on it. Further details have yet to be revealed. 
Fans on Twitter are psyched. One said Netflix "could be making biological weapons" after learning the streaming site is making Divanation, for all they care:
Netflix launched its original feature film programming with Beasts of No Nation, about civil war in Africa, in October. The film was praised by critics and the rest of the internet upon its release.