This Lingerie Brand Reimagined the Disney Princesses With Curvier Bodies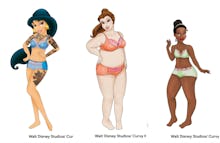 The Disney princesses we know and love are many things: strong, courageous, probably pretty decent singers and adventurers. They're also usually other things, like very thin and "perfectly" proportioned. 
The lingerie brand Curvy Kate, which specializes in bra sizes D to K, wanted to show an alternative. In a recent blog post titled "If Disney Princesses Were Curvy Kate Girls," the company imagined how great these princesses can look in any shape or size, while wearing pieces from Curvy Kate's latest collection. 
For example, here is what Belle looks like down to her skivvies in Curvy Kate's world...
Here's our girl Pocahontas sans that super-small waist.
And Tiana rocking more curves beneath the ballgown.
Underneath every one of the characters is a body-positive message like, "Little Miss Belle is now sporting a fuller, more curvaceous figure, and we think she looks awesome," and "Here is the gorgeous Pocahontas rocking out in Curvy Kate's best-selling Luxe strapless and showing the world that you can look slammin' at any shape or size."
"We don't believe there is just one type of perfect, and we think a line-up of varied heroine princesses relays this powerful message," Chantelle Crabb, a PR and marketing executive at Curvy Kate, told People.
Curvy Kate also reinvented our favorite redheaded mermaid Ariel...
And even our excuse for sleeping in, Sleeping Beauty. 
"We've made some of the princesses taller, some shorter, some are larger and some are slim," Crabb told People. "They've also got lumps, bumps, freckles, scars, tattoos and cellulite, all things that society would consider the 'norm,' yet the media doesn't always portray this." 
Speaking of tattoos, Curvy Kate actually went on to prove just how fearless Snow White and Jasmine are with a little bit of ink as well. (We see you, Princess Jasmine with a full sleeve.) 
Of course, Curvy Kate isn't the first artist to put a new spin on Disney princesses, specifically targeting the characters' legendarily thin bodies. Clearly, Disney princesses haven't always done a great job representing reality — but neither do many digitally altered photos of women in magazines or ads. 
According to Crabb, these Curvy Kate images are just one attempt to show how important representation in modern media is for women who aren't, say, super thin, blonde, tall and perfectly proportioned. 
"We're not glorifying any particular body type; we think that more women should feel represented in some way, and hopefully this is a step closer to that goal," she told People. "We're aware that they are only cartoons, but the media and films still aren't showing variety; they are showing only a small proportion of body types and we thought it would be fun to challenge that idea."
Now that we've seen just how cute these princesses can be in any shape or size, maybe Disney will consider shaking things up a little and creating a princess with a few more curves, or even a bit of ink. 
h/t People