7 Celebrities Who Rose — and Fell — in 2015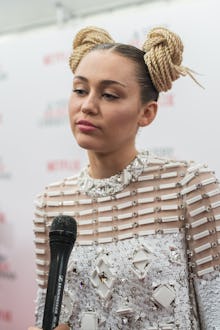 What makes for an outstanding year in pop culture? Look at Amy Schumer and Brie Larson, sisters in Trainwreck, for true exemplars. Both worked on a lot of projects this year — in addition to Trainwreck, Schumer has her own series and Larson is a likely Oscar nominee for Room. They also avoided any major pitfalls, keeping their trajectories high, earning themselves more fans as the year continued.
The seven celebrities listed below were less successful on that front. Each had major highlights this year, but at some point couldn't quite keep their rising star afloat. Their mistakes range from saying the wrong thing at the wrong time to promising albums that never surfaced. Each has a chance to get their mojo back in 2016, and they'd be wise to look at the lessons they learned this year going forward.
Miley Cyrus
Bright spot: She got fans and culture-watchers excited with proud proclamations about her sexuality, ambitious musical endeavors with charity components and advocacy for causes she cares about. For a brief, shining moment, it appeared as though Cyrus would take up Madonna's mantle as a brazen, unapologetic, liberal artist whose capacity to inspire would outweigh the fact she's not the most easily digestible pop star.
Low moment: Then the MTV Video Music Awards happened in August. As the host, Cyrus proceeded to put on a clinic in destroying a rising career in one night. She hit the red carpet in dreads. Nicki Minaj called her out for shaming the rapper in a New York Times interview. She used the word "mammy" on stage. Then she released a supersonic mess of an album to heavily mixed reviews. Looking back, her hosting performance was almost impressive: She basically had to try to get every single thing wrong.
Caitlyn Jenner
Bright spot: No matter what else happens to Jenner, her role as a major icon coming out during her transition is inarguable. Her Vanity Fair cover for the July issue stopped time for a second, captivating readers, while her interview with Diane Sawyer went a long way toward educating Americans about what being trans is. Her speech at the ESPY Awards in July was a crowning moment for a new LGBTQ hero.
Low moment: Hoo boy. Jenner quickly lost favor with those who crowned her by routinely putting her foot in her mouth on big queer and trans issues. She hedged on whether she supports same-sex marriage, earning Ellen DeGeneres' ire in the process. Her interviews about trans issues have gone increasingly poorly, requiring an apology for what many called transphobic and ignorant comments in a Time interview in November. "Even now, at the end of this whirlwind year, I still feel like I have so much to learn," she wrote in the apology. That's probably true, but that lack of development she's shown so far kept her from ending the year on a high note.
Jennifer Lawrence
Bright spot: Maybe the best friendship story this year is that between Lawrence and Schumer. The pals vacationed together, got nominated for Golden Globes together and are now writing a movie together. Luckily Lawrence will have time to make that movie, considering the Hunger Games franchise ended this year.
Low moment: That ending wasn't quite smooth, though. The final franchise installment made relatively little money at the box office compared to the others in the series, signaling that it's probably good that Katniss' story is complete. 
The bigger issue is Joy, Lawrence's latest team-up with American Hustle director David O. Russell. Once touted as an Oscar contender, Joy has received middling reviews — and for good reason. Lawrence looks lost in the film, at times giving a great performance and at others losing all of her usual charisma. It's a real disappointment coming from one of America's most exciting young actresses. She recently said she'll work with Russell forever if he wants, and the Academy of Motion Picture Arts and Sciences loves her, so she may still scrape out an Oscar nod. But if Lawrence wants to grow as an actress, sticking with Russell is probably the wrong move.
Taylor Swift
Bright spot: 1989 may have been released in 2014, but its strong sales continued well into the new year. Her triumph at the VMAs was twofold: She took home a number of awards, and she made it out of the fires of her feud with Minaj relatively unscathed.
Low moment: Yes, bringing Joan Baez and Julia Roberts onto the 1989 World Tour stage opened up a can of worms. Yes, "Please Welcome to the Stage" was hilarious and scathing in equal measure. Yes, the "Wildest Dreams" video was unfortunate. Yes, she probably got too obsessed with her squad. But an artist at the top of her game can shake any haters off. Where Swift's year fell apart was when Adele started breaking every record in the book — most of them Swift's. Not too long ago, New York magazine declared Swift the biggest pop star in the world. For the first time since, she's playing catch-up.
Ben Affleck
Bright spot: Affleck's year probably had the fewest bright spots of anyone on this list, but his and Matt Damon's revival of Project Greenlight was a critical success. Affleck was also still riding the good vibes from Gone Girl's smash box office success last year. He was set up for a solid, if not spectacular, 2015.
Low moment: Then Affleck and Jennifer Garner got divorced. It was heartbreaking news that came with rumors of cheating with their family's nanny that made Affleck look more like a villain than a hero this year. Speaking of, early glimpses of his work as Batman proved disarming, while in the real world Affleck tried to use his largesse to prevent details of his family's slave-owning history from coming out. To top it all off, Affleck got a giant tattoo of a phoenix on his back. Not a solid year, and certainly not a spectacular one.
Matt Damon
Bright spot: The Martian, a critical and commercial sensation, launched Damon into the stratosphere. Talk of him winning an acting Oscar turned up quickly. He's already earned some key precursor nominations toward getting into the best actor Oscar lineup.
Low moment: Damon fighting producer Effie Brown on the idea of diversity behind the camera on Project Greenlight was the definition of not a good look. He followed that up with poorly formed comments about gay actors staying in the closet. His responses to any and all criticisms were trying to shut them down instead of listening. It's a shame: This was, on balance, a great year for Damon's career. If he'd thought more carefully about his words, he could have walked out of 2015 with a huge win.
Rihanna
Bright spot: "FourFiveSeconds," a January release, is still one of the finest records of the year in no small part thanks to Rihanna's pained, emotionally resonant vocals. Her performance of the song at the Grammys, with Sir Paul McCartney and Kanye West by her side, was the standout moment of the show.
Low moment: Rihanna took all that hype from "FourFiveSeconds," plus follow-up singles "American Oxygen" and "Bitch Better Have My Money," and did precisely nothing with it. Her eighth studio album Anti is reportedly still in development after a year of teasing with tour dates and album cover reveals. This comes after a year of constantly shifting rumors about when the record was hitting shelves. 
On the one hand, it's great that Rihanna is taking the time to craft a "timeless" album. On the other, it's hard to see Anti as a complete vision when it's still being put together in such a piecemeal fashion. The wait isn't the problem — West is taking his time with his record, and Adele went away entirely for three years. It's the seeming aimlessness that's left Rihanna ending her year on a low. She's far from that Grammys stage right now — but if Anti does ever see the light of day, she'll surely be welcomed back.
Read all of Mic's year-in-review coverage here.