Fox Is Staging 'The Passion,' a Tyler Perry-Led Easter Musical About Jesus Christ, in 2016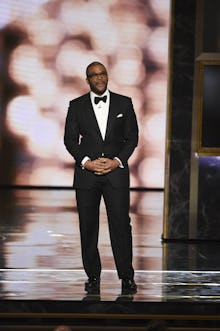 Question: "Jesus Christ/ Jesus Christ/ Will you be live on Fox this Palm Sunday night?"
Answer: Yes, thanks to the powers of Tyler Perry. And yes, it sounds exactly as absurd as it seems.
Ahead of the production of Grease: Live in January, Fox has ordered a second live musical for 2016: The Passion. According to TVLine, The Passion will follow the story of Jesus Christ's crucifixion and resurrection. The musical, which reportedly will draw a similarly starry cast as Grease: Live and NBC's live productions like The Wiz Live! will be narrated and hosted by Perry.
No details on the music are yet available; according to TVLine, Glee music producer Adam Anders will be curating a set of "popular music." The production, set in modern-day New Orleans, will come to a head "in a procession of hundreds carrying a 20-foot, illuminated cross from Champion Square outside the Superdome to the live stage at Woldenburg Park on the banks of the Mississippi River," according to Fox.
Live musicals have been a boon for NBC, with the most popular of them drawing record ratings (The Sound of Music Live! starring Carrie Underwood) and the best of them drawing critical plaudits (The Wiz Live!). It's little wonder Fox wanted to get into the game with Grease: Live, set for Jan. 31.
Unlike the other live productions, The Passion isn't an existing work. Additionally, Perry's involvement feels random, though Fox's president for entertainment David Madden called him the "perfect choice" to host.
"We are so thrilled to have the multitalented Tyler Perry join us for this epic music production," he said, according to the Wrap. "He is the perfect host to lead the cast — and viewers — through the streets of New Orleans in this contemporary retelling of a timeless story."
Whether this proves to be a sensation like The Passion of the Christ or an absurdity at the same level as its description will have to remain to be seen until spring. The Passion is set to air March 20.