Carly Fiorina Slams President Obama, Republicans in New Dog-Filled Video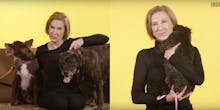 As Republican presidential hopefuls gear up for CNN's GOP debate Tuesday, former Hewlett Packard CEO Carly Fiorina is hanging out with puppies and warning them that President Barack Obama will eat their families in a new video posted to YouTube. In a video interview with Independent Journal published Tuesday, Fiorina, accompanied by several K-9s, compares a number of the dogs to fellow candidates, chews on a piece of dog food and criticizes Obama.
"Not even Obama has a cat," Fiorina says matter of factly as a K-9 washes her face with its tongue. "You know, President Obama ate one of your cousins. Vote Republican." Fiorina's jab at Obama isn't exactly untrue — Obama said he ate dog meat as a child in Indonesia, something conservatives have often used to denounce him, according to Huffington Post.
In the video, Fiorina also compares a number of the dogs to candidates she will be taking the stage with Tuesday night, including Ohio Gov. John Kasich and controversial business mogul Donald Trump. "Dogs never tell me to smile more," Fiorina jokes, alluding to statements made after the second Republican debate in which news casters and Trump criticized Fiorina's face and appearance.
"Look at that face!" Trump said in an interview with Rolling Stone in September, referring to Fiorina. "Would anyone vote for that? Can you imagine that, the face of our next president?"
Well, Fiorina is grinning from ear to ear in the latest, soon-to-be viral video, though her happiness comes from warning puppies of their families' impending dooms, supposedly thanks to Obama. 
Here is the full video:
Let's see how the rest of the Republican flock reacts to this during Tuesday's debate, which airs at 8:30 p.m. Eastern on CNN.