Last-Minute Christmas Gift Ideas for Under $50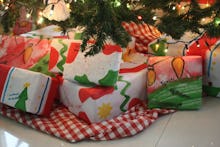 In a perfect world, we'd all have an unlimited amount of free time and a copious amount of money to search for and purchase the perfect holiday gifts for family and friends. Well, maybe that's not what most would do with extra time and money, but the point is that we're all broke and have no time for Christmas shopping. Fear not — there are gifts out there under $50 that can still make you look like a Christmas gift-giving genius even with minimal funds during the final countdown.
There's this carry-on cocktail kit and these meaningful bracelets handmade by female Cambodian artists. Herschel makes $25 trendy wallets, and who wouldn't love a gigantic blanket scarf? There are worthy gifts out there for under $50 that don't require getting off the couch or being rich to purchase for those who still have, ahem, a few people to check off on their Christmas gift list. 
Here's a well-rounded list of worthy Christmas gifts under $50 (you're welcome):
Truffle Salt, $14.95, because it can save even the blandest of foods.
Carry-On Cocktail Kit, $24, because the selection of cocktails offered on planes are sub-par at best.
Handmade Blanket Scarf, $29. It's the best thing since the Snuggie.
Humans of New York: Stories, $29.99, because it'll look good on their coffee table, and everyone should read it. 
One of those stylish S'well bottles, $35, because they probably want one but can't justify buying it for themselves — and it's environmentally friendly.
A set of two freezable whiskey glasses, on sale for $19.99, because the young cashier at Bloomingdale's said they're "dope."
This "Don't Believe the Hype" poster, $29, or any of the posters by Paper Jam Press, because they're cool, not painfully cliché.
A five-pack of Jars by Dani desserts, $37, because they're really frickin' gluttonous and scrumptious. 
Headphone earmuffs, on sale for $26, because the headphone vs. earmuff conundrum shouldn't be a thing.
This USB astronaut light, $20, because it's absolutely adorable, quite useful and from the Museum of Modern Art store. 
An hour-long foot massage, $30, because it's the most underrated idea ever.