Here's How to Order Girl Scout Cookies Online and When Sales Start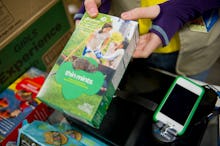 'Tis the season ... for Thin Mints and Samoas. The annual rush for Girl Scout Cookies starts soon, and there's more than one way to do it: Buying them in person through door-to-door sales from a friendly neighborhood scout is always an option, but for the second time, it will be possible to order Girl Scout Cookies online and through a cookie-selling app.
When do Girl Scout Cookie sales start? "Cookie season typically lasts from January to April," a spokeswoman for Girl Scouts of the USA told Mic. However, it's up to local councils to decide when they want to open up ordering. Some Girl Scout troops will begin selling cookies as early as December.
The Girl Scouts launched "Digital Cookie," a cookie-selling app, in early 2015. This season, scouts will be using "Digital Cookie 2.0," a revamped version of the app and website, which allows individual scouts to maintain personalized profiles where they can take orders and make sales.
How to order Girl Scout Cookies online: Anyone who wants to order cookies online still has to do it through a Girl Scout they know, using her profile, which means that cookie-lovers who don't know any scouts personally are out of luck when it comes to online ordering. 
All hope is not lost, however, because traditional booth sales will begin in early 2016, popping up on street corners and shopping plazas across the country. To find an upcoming booth sale near you, the Girl Scouts helpfully created the "One and Only Official Girl Scout Cookie Finder Mobile App," available for iOS and Android.
A complete list of this season's cookie varieties is available on the official Girl Scouts website.