Proposed Missouri Legislation Would Revoke Scholarships from Striking Athletes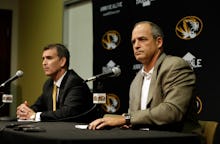 Missouri takes football seriously; so seriously, in fact, that whether or not the game goes on at Mizzou has become a matter for the state legislature to decide. On Friday, Republican representatives Rick Brattin and Kurt Bahr introduced a bill that would renege the scholarships of student athletes who go on strike, the Columbia Missourian reported Monday. This follows the football team's decision to suspend play as a means of forcing the University of Missouri's administration to respond to a culture of alleged racism on campus.
Bahr told the Missouri Columbian that the legislation was created "obviously in reaction to the athletes who were saying they weren't going to play to what they considered to be social issues on campus. I don't think that is an appropriate response on their part."
HB 1743: The proposed bill — HB 1743 — "provides that any college athlete on scholarship who refuses to play for a reason unrelated to health shall have his or her scholarship revoked," along with "any college athlete who calls, incites, supports, or participates in any strike or concerted refusal to play a scheduled game." Additionally, "any member of a coaching staff who encourages or enables a college athlete to engage" in a strike (as Mizzou coach Gary Pinkel did) will be subject to a fine from the university.
The student strike at Mizzou: On Nov. 7, the football team joined the protests at the University of Missouri and went on strike, refusing to play, practice or partake in anything pertaining to football until grad school Jonathan Butler came off his hunger strike. Butler, in turn, vowed on Nov. 2 to reject any and all food until university president Tim Wolfe either resigned or was removed from his office. At issue were continual reports of racism — including a swastikas scrawled in feces on the walls of university building and racial slurs directed at the student body president — which the school and its president largely ignored, according to Butler. 
"We have reactionary, negligent individuals on all levels at the university level on our campus and at the university system level," Butler told the Washington Post in an interview. "And so their job descriptions explicitly say that they're supposed to provide a safe and inclusive environment for all students...but when we have issues of sexual assault, when we have issues of racism, when we have issues of homophobia, the campus climate continues to deteriorate because we don't have strong leadership, willing to actually make change."
Student protest group Concerned Students 1950 threw its support behind Butler, vowing not to spend any money at Mizzou until Wolfe stepped down and started a petition calling for him to resign, according to the Columbia Missourian. On Nov. 9, he finally obliged.
Will the bill succeed? Probably not. For one thing, it violates the University of Missouri's athletic handbook (here, courtesy of the Columbia Missourian), which — according to Sports Illustrated — says "that the school doesn't receive state funds to operate intercollegiate programs. The athletic department operates solely on the revenue it generates." But regardless of the outcome, Bahr's intention is clear: "We saw the university taking too timid of a response, so we want to encourage them to take a more forceful response," he told the Columbia Missourian.