The Horrors New Album 2016: Latest Update and Info Around Next Record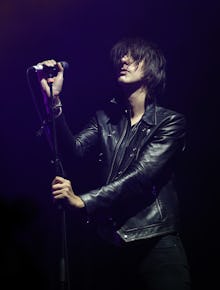 British shoegaze/indie-rock outfit The Horrors has a record on the horizon, a follow-up to the group's fourth studio album, Luminous (2014). It's been more than a year since the band released an LP, which is not an atypical amount of time to keep fans waiting, according to vocalist and frontman Faris Badwan.
"We're recording our new record at the moment," Badwan said in June, speaking backstage to Q magazine after performing at London-based music festival British Summer Time Hyde Park. "It's a traditionally long process with The Horrors. It's going well now."
According to the group's Facebook page, lead singer Badwan is joined by musicians Tom Furse, Joshua Third, Coffin Joe and Rhys Webb. The Horrors is based in London and formed in 2005. Prior to last year's LP, the group released Skying (2011), Primary Colours (2009) and a debut LP in 2007 titled Strange House.
"We write a lot of songs and we usually throw away a lot of songs," Badwan added in the interview with Q, discussing the band's process. "Don't ask me what it sounds like. I could say anything to you now and it'd sound completely different by the time we finish."
Dropping hints: Though the tip to Q surfaced months ago, Furse may have given fans a reason to believe that the album is still under construction on Saturday after he posted a photo to Instagram that seems to show his synth recording setup. 
Furse captioned the post, "Strong line up."
The band has yet to release details about the forthcoming album's title and a concrete release date has not been formalized. Yet, even without new material to support, the band has been hitting the road hard with some big-name acts. In early December, the Horrors completed a tour with award-winning English indie-rock band Alt-J. 
"To be honest, playing live is one of the things that I like most about being in a band," Badwan told Q. "You don't really feel like you're in a band when you too long without playing. It's definitely good for writings songs because it keeps your chemistry going, whatever that means."
The band's sound has come a long way since April 2006, which saw the release of the band's debut single, "Sheena is a Parasite," a play on The Ramones' "Sheena Is a Punk Rocker." Since that time, they've settled somewhat into more ambient and experimental psychedelic rock. 
Check out the group's video for "Still Life," off Skying.