LAUSD Threat a Hoax? House Intelligence Committee Member Says Security Scare Possibly Fake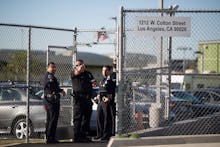 The Associated Press reported that a member of the House Intelligence Committee said the threat that shut down the entire Los Angeles Unified School District is "believed to be a hoax." According to comments Tuesday from the district superintendent, school officials received a "credible" bomb threat via email from a Frankfurt, Germany-based IP address. 
"The preliminary assessment is that it was a hoax or something designed to disrupt school districts in large cities," California Rep. Adam Schiff said in a statement, according to the Los Angeles Times. "The investigation is ongoing as to where the threat originated from and who was responsible."
"As a result of a safety threat made against Los Angeles Unified schools and in abundance of caution, Superintendent Ramon C. Cortines has directed that all schools be closed today to ensure the safety of all students and school-site employees," read a statement from the LAUSD on Tuesday. "We are deferring to law enforcement on any questions relating to the threat. The District has no further information or details at this point." 
The AP reported that the disruption on Tuesday caused 900 public school closures and 187 charter school closures. New York City officials received a similar threat, however New York officials discredited any potential danger.
Dec. 15, 2015, 4:30 p.m. Eastern: This story has been updated.