William Porter Trial: What Is a Deadlocked Jury?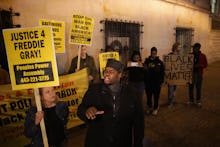 CBS News reports the jury in the trial of Officer William Porter, the first of six Baltimore police officers to face murder charges following Freddie Gray's death in April, was unable to make a decision as to whether Porter should face up to 25 years for involuntary manslaughter and second-degree assault, among other charges. 
Jurors in Porter's trial failed to reach a decision after nine hours of discussions Monday and Tuesday. If a jury is unable to reach a unanimous decision, it is known as a "hung jury," or as being in a state of deadlock. The judge presiding over the case sent the jury back for further deliberations, according to the Baltimore Sun. 
In some situations of a deadlocked jury, a judge could deem the case a mistrial, meaning a defendant is found neither guilty nor innocent. A retrial is not immediately scheduled during a mistrial in case prosecutors choose to proceed with retrying the defendant. The jury might also choose to go back to discussing the evidence further before a mistrial is declared.
"According to charging documents, Porter was present when Gray said he couldn't breathe," NPR reported in November. "The Baltimore Sun has reported that Porter told police investigators he informed the van's driver that Gray was in medical distress, though also wondered if he was faking it. Prosecutors say they are trying Porter first because he is a 'material witness' against at least two other officers."
Gray's severe injuries while in police custody and following death on April 19 added to the already brewing national discourse over police brutality against minorities. Prosecutors claim Porter did not take Gray's injuries seriously, ignoring them entirely while assuming he was faking several of his ailments while leaving him in handcuffed and shackled by the legs without a seat belt. 
"Porter is going to be the key to everything," Baltimore defense attorney A. Dwight Pettit told NPR. "What he negotiates or doesn't negotiate, whether he's acquitted or whether he's convicted, he is going to be the determiner of how the other five proceed."
Porter's defense attorney Joseph Murtha described Gray's death as a "horrific tragedy," though "there is literally no evidence" implicating Porter in any wrongdoing, according to CBS News.