The Duke Spirit 'Kin' Is Coming in 2016 — This Is What We Know About It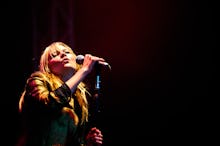 The Duke Spirit has a new album in the works, Kin, that will arrive sometime in "early 2016," according to the band's page on music crowdfunding site PledgeMusic.com, where the album is available for preorder.
The band announced the new album back in September. Lead vocalist Liela Moss told music blog Bitter Sweet Symphonies that Kin was about "remembering, forgetting, putting an emphasis on the present moment to help a process of mourning." There's no official release date set yet, but the band announced on its Facebook page in early December that it would begin a U.K. tour in February.
While there's no official release date set yet for Kin, fans who will be attending the band's upcoming shows in February and March can likely expect to hear plenty of material off the new album.
Kin will be the band's fourth studio album, a follow-up to 2011's Bruiser. In an October interview with Scotcampus, Moss said that Kin will feature "a lot more harmony, tonality and depth, and ... slightly new configurations."
In October, the Duke Spirit released the official music video for "Blue And Yellow Light," the first track off on the new album.
Moss discussed the song in her interview with Scotcampus, saying, "The verses are sung in a really high register and it's not something I'm projecting at all, it's very fragile. Then the choruses are joined in with other people singing too, and it's much more of a beautiful connected feeling while the verses feel I'm walking on a tightrope!"
Correction: Dec. 17, 2015