Michael Jordan Just Donated the Money He Won in a Lawsuit to Several Chicago Charities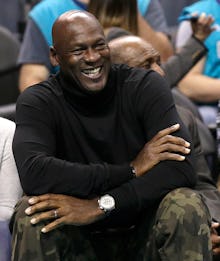 As promised, famed basketball player Michael Jordan donated the net proceeds from his $8.9 million settlements to 23 Chicago-based charities, the Chicago Tribune reported. The cases, which were against sister grocery chains Dominick's and Jewel-Osco for using his name in an ad sans permission, finally settled last month after six years. The sum donated is undisclosed but reportedly millions. 
"I care deeply about the city of Chicago and have such incredible memories from my years there," Jordan said in a statement, according to the Chicago Tribune. "The 23 charities I've chosen to make donations to all support the health, education and well-being of the kids of Chicago. Chicago has given me so much and I want to give back to its kids — the city's future."
The two grocery store ads were featured in Sports Illustrated, and came out in the same year that Jordan was inducted into the Basketball Hall of Fame, according to CBS. They both used Jordan's name and number. Dominick's included a coupon for a steak and Jewel-Osco used Jordan's tagline, which is "just around the corner." 
Jordan called it "a misuse of my likeness," back in August, according to ABC. 
At first, Jordan asked for $5 million, but that grew to $10 million, according to Business Insider. His team claimed he wouldn't have approved of that small of a licensing agreement. He added that it "was never about the money."
The now-closed Dominick's was found liable for its ad, and was allegedly expected to be used as a bar for finding Jewel's ad also liable, according to the Chicago Tribune in November. 
Some charities donated to by Jordan include New Moms, Chicago Youth Programs, Common Threats, Juvenile Diabetes Research Fund and La Casa Norte.